Jessica was about to Orgasm.
She could feel his heat growing inside of her body. Stretching her open from the inside out even as her mouth opened wide to meet his tongue in space. She wanted him to cum now! Jessica could feel him swelling wider inside of her body. Pushing her even further. Even as she didn't believe her body could afford to take any more of an invasion.
She had almost forgotten his wife was in the room until she felt the warm length of her tongue. Slick against her anus. And considering their symbiotic relationship? That was a testament to her newfound lover, Jerrod. Wanting to focus only on the smooth rhythmic motion of the man between her thighs from the moment he invaded her slit. Jessica was beginning to quiver deep inside of herself immediately, and perhaps it was because he was the most famous person she had ever fucked. As far as she knew. Not knowing where the sensations were emanating from made her feel as if Jessica's whole body was on fire! And her constant wetness was an attempt to put it out!
She had spent many years in Europe planning her return and next move. Transforming the Family's fortune into terms, she could easily manage from afar. While spending nights trying to find herself and feel something she never had since that night. Alive. Jessica decided to return once she surmised there was only one way to face your demons. Head on.
As Jerrod loosed her from her perch on top of him. Jessica. Her ample bottom and bosom seemingly slid off of him onto the floor. His wife, lover, and confidant Jane replaced him at her pulsing nexus. Armed with a warm cloth used to wipe away the younger woman's shameless display of lust. While occasionally running her adept tongue between the folds. Licking and twisting the appendage to seemingly Jessica's advantage. Women were never her thing. But she could get used to this! As Jane's crafty tongue eased the joyful but slightly painful sensation of her husband thrusting inside of her. His big cock still resonated against the new sensation Jane now provided. As Jerrod sat back in his chair now solo.
"We are so happy you accepted our invitation. Do you still feel up to some role play?"
Jerrod spoke as Jane's hands began to explore Jessica's body further. Like her husband. She really appreciated the female form and enjoyed mapping women's reactions to her touch. Almost as much as she enjoyed watching Jerrod fuck them senseless. Knowing how he made her feel every time they were together as husband and wife. Only a woman who was with him too could understand and appreciate the real power of Jane. Especially after she had her way with her.
"Would you mind if we tied you up now like we discussed?"
Jessica had picked up some habits and desires that the brilliant young woman hadn't figured out how to control yet. All based upon the excitement she felt when completely out of control. And the danger of Bondage suited her new nature perfectly. Unable to make any decision about how her own body could or would be used and sometimes? Even by who. A suitable penance for what she had done to Ron.
There was also an affinity for much older men with Big cocks. Most of whom were very married men she found somewhat reprehensible. Nasty old fuckers who had no right touching a woman of her quality without paying the enormous sums they eventually would for her time. Jessica's habits had become obsessions, and the only way she could break the chain was to finally face her demons.
"Please do." She replied.
Jane used the woman's verbal cue to slap her Jessica's pussy with her open hand roughly. Eliciting a shriek from the unexpected blow. And releasing a calming thought into her head. She wasn't afraid of pain. On the contrary, she welcomed it. Jessica's fear was of her weakness of sin. Feeling that she may still owe a debt to Jane for removing her Father from her life years ago. And wondering if under the stress of the pleasures or torture she would feel compelled to admit it. And be in no position to defend herself.
"You liked that a little too much. I think we have a winner hun."
Jane began roughly exploring Jessica's insides as she spoke to her husband and noted his cock's appreciation of her work. It stood tall and mighty like a Mandingo Warrior's staff. Ready to fill her when she asked.
Jane began to attach the spreader bar to the ankle cuffs already fastened around each of Jessica's legs. And Jessica started regress immediately into her submissive self. Where she was both most comfortable and deadly. Feeling the areolas on her chest pucker up as Jane began to pinch them hard between her fingers and kissing her in the same manner simultaneously. As she began to fall back onto the floor unable to both keep her balance as well as protect the sensitive nubs. That was the moment she knew the night's games had begun. And decided to use her elbows instead to allow her new Mistress access to her swollen breasts.
"And she is a quick learner." Jerrod chimed in.
Jerrod then stood and walked to the table behind her. Opening a draw, she was unable to see in her current state. Jerrod began to kneel on the floor opposite Jane. Balls and dick sitting directly in front of her forehead. Just beyond the reach of her wanting tongue.
"Eat her pussy again lover."
Jerrod reached out and dragged the bar with one hand. Curling the woman up in a semi-ball and lifting her up into the air slightly. Allowing his wife to dig into the young snack with no limitations! Jessica's hands reached out and around Jerrod's thighs and clutched his ass forward. Allowing her mouth and tongue access to at least one side of his stick. Which she flicked her tongue at wildly. It was a position she couldn't remember ever being in before and combined with the expert licking she was receiving from Jane? Jessica felt another Orgasm welling up inside of her body. This one more powerful than the last! Jessica felt herself dripping down. Outside of the folds of her beautiful and recently underused pink pussy. Between the folds of her ass and spread around liberally by Jane's tongue occasionally. Until it felt so good? Jessica thought that she would erupt all over her face like she had on Jane's Father's long ago. The thought alone fueling her wanton feelings.
"Fuck her babe."
Jessica felt the plug being pushed into her tiny ass as Jerrod pulled the Bar closer to him. Exposing it a bit more. She hadn't seen him pass his wife the tool and screamed in pain as she began to work the tool around inside of her. Jessica's Orgasm had been thwarted by the thickness of the toy stretching her ass. But she wasn't complaining about how she felt at all!
"I think she likes it."
Jane began to nibble at her clit whenever she parked the plug inside of Jessica in a way no man ever had tortured her before with his mouth. Knowing exactly how to play with her hardened, exposed puffy piece. Alternately licking and biting the pleasure point into a state of euphoria and to the precipice of her pain's limits. She felt relieved when the couple flipped her over onto her knees and began to take turns spanking her. After finally cuffing Jessica's hands together, behind her.
This went on for almost an hour until Jessica could feel her ass relax around the plug and a different sensation began to build inside of her. One that Jane knew all too well. After being teased and pleasured. Tortured and taken to the edge. Nothing short of a good, vigorous fucking by Jerrod's ten inches would sate her! She was well past the point of taboo or concern and only wanted one thing. And when the plug was released from her as, she just knew it would be next! As long as she begged for it.
"Can I have some more cock, sir."
Words that usually got Jessica exactly what she wanted fell on deaf ears. Until Jane answered.
"You mean my cock?"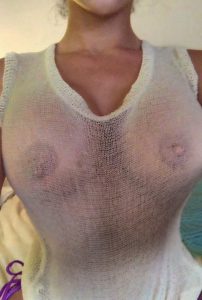 Jessica was so used to dominate men having their way with her. It never occurred she would have to defer to a woman to sate her appetite. But in her horny state? Jessica didn't hesitate to mirror the request to Jane.
"Mistress Jane. Can I have some more cock please."
Jane looked at the woman angrily now. Her bare pussy pulsing inside of her firm body as she considered the request.
"You haven't even tasted my pussy yet."
Pulling a chair from the corner of the room. Jane sat down on the edge of it as she grabbed the slightly younger woman's hair and pulled her face into her snatch.
"You think I am going to let a bitch like you come in my house and take what's mine? And not be properly compensated for it?"
Jane spread her legs wider as she pulled Jessica in closer. Jumping as the desperate young woman darted her tongue into Jane as deeply and quickly as possible.
"Just like a fucking Freshman."
Jerrod sat in a chair on the other end of them both. And as Jessica's round ass circled and full tits hung down? He was playing with both as well as occasionally usingJessica's own juices to keep her asshole moist and ready for his fingers to invade. Mixed in with the occasional hard smack. Jessica was beginning to enter into her own happy place. Where pain and pleasure become one without any risk of thought interfering! Her penance would be over soon. And she could leave this all behind her?
"Fuck this murderous bitch like the dog she is baby."
Jessica hadn't heard every word clearly that night. Especially with her ears pinned between or underneath one or the other of her host's thighs! But she knew that perhaps she was in real danger as she felt the knob of Jerrod's bulging dick touch her anus and push right through any resistance. Even as she screamed for him to stop.
Jane had wrapped Jessica's hair in her fist and lifted her head until the two women were face to face.
"Did you really think I didn't know who you are or what you did?"
Jerrod began to push harder and deeper into Jessica. Causing twenty times the pain as the type she had enjoyed earlier in the evening. When he was tightly inside of another of her orifices. When he finally slammed himself as far as he could go Jessica began to drool from her mouth. The pain was so exquisite!
"It's going to be a week before anything enters your pussy again. If even then." Jane continued.
Slapping the woman across the face paled in comparison to the damage Jerrod was inflicting with each stroke! Her body felt like it was being split in two! Even if it did feel delicious to be in such exquisite pain! As Jessica looked into her tormenters eyes, she could see her Jane's father embedded in them. Watching her shamelessly get fucked in the ass like the many times he had watched Jessica's mother endure the same at the hands of a stranger. And finally, she understood why.
"How did you know?"
As the words left her lips, she at the same time realized the answer. Her mother, Irene. That weak bitch probably confided her feelings about what really happened to Ron to Jane! And why wouldn't she? This was the most exquisite torture Jessica had ever experienced in her short but satisfying exploration of the BDSM world! Her slut mother would probably say anything exposed to these two!
"Why did you do what you did?" Jane asked.
Jerrod was beginning to tire of holding back but, he knew he couldn't let his wife down and cum in her yet. She needed to be interrogated further. And his black cock and the texts between them indicating that Jessica was a willing participant meant she couldn't claim she was forced to do anything. But once the sex ended? Whatever else happened between the three of them would probably not be the consensual affairs the two of them customarily engaged in.
"If you let Jerrod cum in me I will tell you everything. Please, Mistress! The pain is too much but, I can't stop myself from cumming!"
"No. You are fucking pathetic! How did my father ever let his guard down with a pain slut like you."
The feeling of pain had subsided so much Jessica began to push back onto the intruder in an attempt to massage his cum from him less willingly but, to no avail. All she did accomplish was another Orgasm. And a laugh from the two of them at her feeble attempt.
"I am my Mother's daughter," Jessica replied.
The fact Jessica was able to ascertain how she knew what Jane knew only made Jane more determined to coerce a full confession from her. They both knew it was an admission of guilt and still, both weighed the option of ending this game and charade that consisted of two beautiful, naked white women and one extraordinary BBC was just as important as a dead man neither of the women really liked.
"I will tell you but, not this way. It's too fucked up."
Jane's answer was short and to the point.
"Suck his dick clean after he pulls it out of your dirty asshole. Or we will have words."
Jerrod came inside of her with a fury! His balls. Having been teased earlier erupted in a first spurt which was steady and thick. Leaving the damaged orifice to marinate and repair itself immersed in his helpfully warm DNA package.
Jerrod held off on his second spurt just long enough to shoot most of it into Jessica's open, waiting mouth with the rest deposited onto her makeup. And at that moment? Jessica felt both exhilarated as well as Humiliated. With streams of his love juice everywhere on her face and streaming down toward her naked tits as Jerrod used the spreader to flick Jane onto her back to admire his handy work before feeding his dick to her orally.
"Oh…my..god."
Licking and tasting herself on him as cum dripped down her otherwise beautiful face was so demeaning and fulfilling simultaneously, she almost came again! The sensations of relief were flushing over her body as she framed what she was going to tell Jane next carefully in her head to the best of her abilities. As any girl who experienced such a powerful series of Orgasms knows? Formulating thoughts was nearly an impossible task at the moment. And only truth was possible.
"I left because Ron tried to take me on my 15th birthday. He wanted to share me with his friends. Like my mother"
Reaching her tongue down onto Jerrod's semi-soaked balls and past them onto her perineum. Jessica could feel no inhibitions holding her back. No boundaries or Taboos were too dark to explore. Her tongue reached his hole and began to lovingly lick him hard again as Jane watched. Still shocked at what she had said.
Jerrod sat down and opened his legs wide to allow the young slut's tongue access to him. His flaccid cock slowly stiffening on top of her head as his wife watched. Silent for the first time. Was it true? Could it be possible that the man who had given her life and left her so much money she didn't need her famous husband at all. Who encouraged and raised her to be tough and strong. Was a predator? She had read his journals but thought them to be so much fiction more than fact. And had come to the position he would never do to her what was in his journal. Just the depraved musings of a sexual man. But Jane knew he was capable of what Jessica claimed and much more. And she knew in her heart if he had planned it? Ron wouldn't have stopped until it was finished. Jane had never considered Jessica had a reason to do what she did. Survival.
Jane knew the rest. The way, he treated Irene and disrespected her husband in his own home on many occasions. The multiple arranged gang bangs and his sadomasochistic tendencies towards Irene as well as other well-heeled women in their community. They were all consenting adults and willing participants. She had resolved already in her mind that he was a deviant and to some, a monster. For as many women and men sought him out? He had destroyed five times as many by connection. Looking at Jessica, she realized that her Father had raised her somewhat to be this way. Like Jane. And both women just wanted to be free of him forever.
As Jessica completed her thorough cleansing of Jarrod's hole and began to slide her mouth over his now hardened cock. Her thoughts of what would happen to her next no longer mattered. She was free for the first time of the secret. And if she was never going to leave this room? Neither would her truth unless Jane decided to carry it with her. Her childhood had been cut short, and Jessica had lived so much there was nothing she was afraid of in this world or the next. She only cared for the moment.
"Mistress Jane I am ready for anything you to exact any punishment you see fit. Including calling the authorities and admitting what I did. But I need you to understand what your father made me first."
Jane walked over to Jessica and pulled her by the hair off of her husband. The combination of lust and terror inside of Jessica's eyes made Jane feel powerful. But the woman's sickening display of sluttiness somewhat repulsed as much as excited Jane! She slapped the engorged tits aiming directly for the nipples and watched as Jessica shook and quivered in response. So she slapped them again. And again. And again until the weight of Jessica's body was being held up strictly by Jane's own hand and a head of hair.
"You really don't care if you live or die do you? As long as it hurts a little?" Jane asked.
"No Mistress. I don't anymore." Jessica sadly replied.
It was the truth. In all of the ways, Jessica had been molded and sculpted over the years to be something different than what she had circled back to. A more reserved version of her own Mother. Despite the men in her Family's attempts. First, by her Father. Then her Grandfather. She was doomed to never escape from what her mother Irene and Jane's father, Ron, had made her witness. It was a reverse Clockwork Orange. With the images of men with her Mother becoming more appealing to her subconscious mind over time. She was being primed her to replace her Mother as his plaything. Or maybe to join her. Either way? Jane recognized that her father had painted Jessica into a corner that eventually she wouldn't escape.
Eventually, Jessica would have probably ended up being someone's slut. Considering her Mother's hyper-sexual genes the right man would have pulled it out of her like Jerrod had Jane. But Ron, Jane's Father had been psychologically priming her with charms even fully grown women couldn't resist. How else could she end up like this? Tits up in the air and legs spread wide for access. Wanting to please a stranger as penance is if that was ost of what Jessica had to offer. It was in Jessica's panting weakness that Jane felt an emotion she rarely did. Compassion.
Jarrod looked directly into his wife's eyes and knew what she was thinking. Which only made him love her more. The anger she had felt was no longer justified. They both knew what her Father was capable of and surmised that had Jessica not acted? Eventually, Ron would have controlled and destroyed Jessica's entire life. To do Jessica harm out of anger would make her no different than him and that was not what Jane or her marriage was about. Jane knew to keep Jessica against her will would be an act of contrition that was not justified by the circumstance. Even if Jessica would enjoy it.
"Fuck!"
The word was screamed at the top of Jane's lungs, and she released the woman from her grip. Allowing Jessica's face to hit the carpeted floor with a thud. As her hands were unable to break her fall due to them being fastened behind her back. Jarrod stood up and immediately went to hug his now sobbing wife as Jessica felt the flush of pain across the side of her face from the fall. Jessica's admission had brought a halt to their session with a reality bomb. And Jane needed to process her motives for being there.
"I'm sorry."
Jane released her embrace from her husband and leaned in front of her once more. Looking deep into Jessica's eyes once more. What she saw was not an evil, twisted murderer. But a kindred spirit and fellow survivor. They were both in many ways, raised by the same man. And both had somehow, escaped his clutches only to be brought together now. A part of Ron lived inside of them both, and it was deviant and somewhat sadistic. But, it wasn't in control of either of them anymore. As Jane kissed her newfound sister gently on the lips this time, she knew she had no choice other than to forgive her. They needed each other now more than ever.